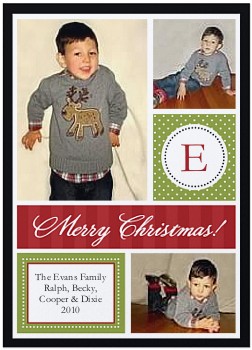 Seasonal Chic Noir Christmas Card


I finished up our 2010 Christmas card!! What a relief!
I was so impressed by all the choices at Shutterfly.com. They turned out great! Here's all the cool features I was really impressed by:
1) Tons of designs, sizes, colors, and more. I really wanted to try out the cardstock photo card, so that's what I went with. I wanted to keep it simple, but they even have cards that you can turn into a "Storycard" and add details about the year and so on! Very cool.
2) Editing! I was able to crop, reduce red eye and add color choices, like black & white, sepia, and so on! I love having these options, because you never know when you might need them, or when you just want to add a cool effect to your card.
3) Again, I loved the ability to be able to have Shutterfly.com stamp and mail the cards for me, if I needed that. I didn't do it, this time, but what an awesome service.
I love how my card turned out and I really appreciate the offer to get 50 for free! What a deal! I hope you take some time to check them out too! You will be amazed!